1934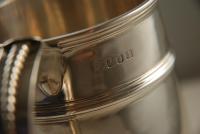 This stunning silver mug is both large and heavy, and of excellent quality. It is of the rare "Britannia" standard, which is slightly purer than sterling, being...
More Details & Photos
SOLD
This pretty silver quaiche was made by R.E. Stone in London in 1934. It is in good quality with no damage or repair.It has a length of approximately 12...
More Details & Photos