Queen Anne Antique Silver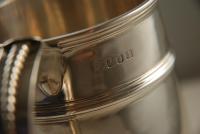 This stunning silver mug is both large and heavy, and of excellent quality. It is of the rare "Britannia" standard, which is slightly purer than sterling, being...
More Details & Photos
This magnificent silver gilt two-handled cup and cover, standing on a stepped spreading foot, was made by Alexander Crichton in London, 1931. The domed...
More Details & Photos